This issue may arise if the mail template for Domino 7 does not contain the "$MsgTrackFlags" flag. This flag is used by Impatica for BES to identify the e-mail containing the PowerPoint attachment to be processed. When a user:
a) receives an e-mail with a PowerPoint attachment on the BlackBerry,
b) opens that e-mail,
c) selects the View Attachment option from the menu and
d) then clicks the trackwheel,

an e-mail is sent to the configured Impatica for BES mail account. With this field missing, the conversion request e-mail will not be picked up by the Impatica Conversion Manager and will sit in the mailbox without being processed.

To enable this tracking from within Domino 7 please go to:

"Domino Administrator> Messaging> Messaging Settings> Basic Tab> Message Tracking" This must be set to enabled.

Alternatively, as displayed in the below screen capture, one can create a dummy agent manually using Domino Designer. The agent "dummyNewMailAgent" must be set to run before new mail arrives.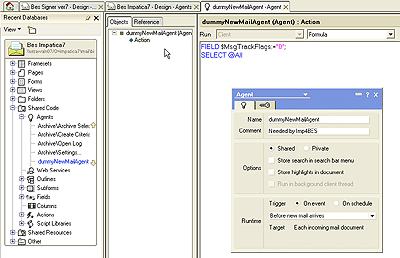 Click to Enlarge